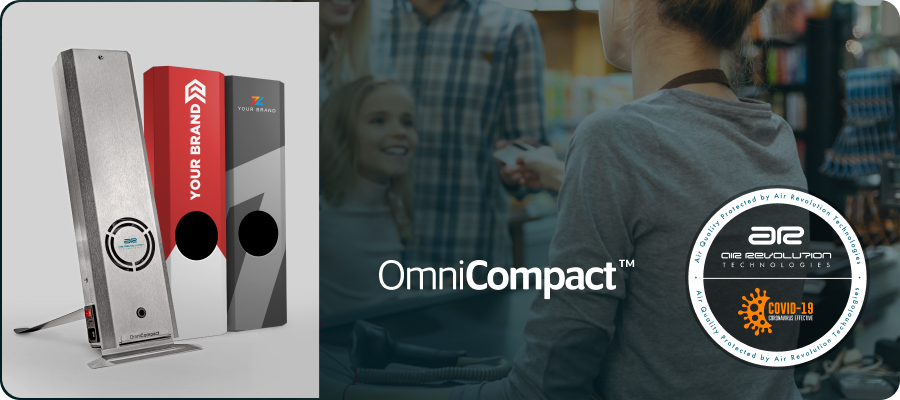 The Omni Compact™ is a compact, quiet, convenient and easy-to-use air hygiene device from Air Revolution Technologies™ that is conveniently designed to simply 'plug-in-and-use', making it perfect for deployment across your business enterprise, whether large or small in extent.
The Omni Compact™ offers an exceptional and assured improvement in both Air Hygiene and Indoor Air Quality quotients and is particularly effective within a 20m2 / 215 ft2 operational footprint (at a standard ceiling height).  It is the ideal unit for in situ applications where people are interacting in relatively close proximity to one another, ensuring a substantial reduction of airborne cross-infection, or additionally, if the general Indoor Air Quality (IAQ) requires to be improved and enhanced due to the presence of exogenous air contaminants and airborne particulate matter.
Importantly, the addition of a unique slip-over cover sleeve allows for the Omni Compact™ to be branded in your own corporate colours and to bear customised and highly targeted messaging to the audience of your choice, internal or external. Why not differentiate your company from your competitors? Why not tell your customers (and your staff) just how seriously you take their safety, their well-being and their air security? The endlessly configurable appearance of the Omni Compact™ is the perfect and credible medium for such a communications campaign.
All Omni Compact™ units are supplied with a Store Window Decal that announces to your customers and your staff, that this indoor environment is 'Protected by Air Revolution'.
110 ~ 240V AC or 12V-DC or 24V-DC or 26V-DC models available.
Incorporates germicidal UV-C light for enhanced pathogen destruction.
TiO₂ layer with UV-C activation provides an effective PCO reaction that amplifies germicidal action & VOC/CAC reduction by means of the production of Hydroxyl Radicals.
Negative Ionisation aggregates airborne pathogens & contaminants and facilitates removal of dust, cigarette smoke and pollen spores.
Low Power Consumption <40w.
Estimated Operating Hours between Servicing >10,000 hours.
Brushed Stainless Steel / Epoxy-Powder Coated Mild Steel Finish.
Maximum Recommended Area Coverage
20m2 / 215 ft2
Maximum Cubic Volume Coverage
(Assumes a Standard Ceiling Height of 2.4m / 7.87ft)
48m2 / 1,696 ft2
Active Air Hygiene Modalities Applied Trivalently:
1. Germicidal Ultraviolet Light A(UV-C @ 253.7 nm)
Yes
2. Photocatalytic Oxidation (Activated by UV-C @ 253.7 nm)
Yes
3. Negative Ion Generation (~3-million N-Ions / cm3)
Yes
Entrained Airflow
0.5m3 / 18ft3 per minute
TiO₂ Layer Surface
242 cm2 / 37.51 in2
Radiated Electrical Energy
32 µW/cm2@1m / 4.96 µW/in2@3.28ft
Lamp Power Rating
18 Watts
Noise
< 30 dB
Weight
1.8kg / 3.9lbs
Dimensions (HWD)
420x115x65 mm / 16.53×4.53×2.56 in.
Note:  All specifications are subject to change without prior notification.