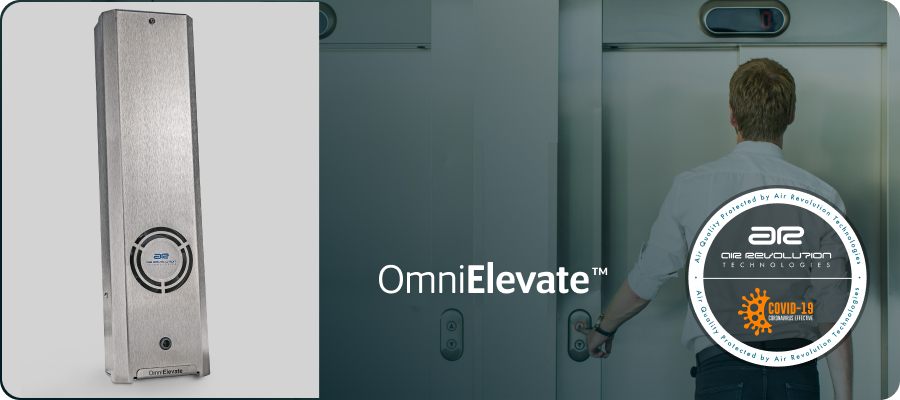 The Omni Elevate™ is a compact, quiet and high performance air hygiene device from Air Revolution Technologies™ that is designed to operate within the spatially constrained confines of a passenger elevator or a public/staff restroom facility, bringing reliable and dependable air hygiene, air safety and indoor air quality into a very challenging and potentially high-risk setting. The Omni Elevate™ is therefore an essential component of any health and safety strategy across your business enterprise, whether large or small in extent.
The Omni Elevate™ is available in three varying configurations to ensure an optimal and aesthetically pleasing installation, being either ceiling mounted, wall mounted or anterior wall-mounted (especially intended for Passenger Elevator Cabins).
The Omni Elevate™ offers an exceptional and assured improvement in both Air Hygiene and Indoor Air Quality quotients and is particularly effective within a 5m2 / 54 ft2  operational footprint (at a standard ceiling height) that is specifically intended for operating environments that are known to generate very high levels of airborne bioburden. It is the ideal unit for in situ applications where people are in very close proximity to one another, or where the aerosolization of pathogens and the generation of bodily odours is a feature of the functional spatial utilization. The Omni Elevate™ is capable of ensuring a substantial reduction of airborne generated infection, and additionally, providing for a continuous remediation of factors affecting Indoor Air Quality (IAQ).
Importantly, as with the Omni Compact™ the addition of a unique slip-over cover sleeve allows for the Omni Elevate™ to be branded in your own corporate colours and to bear customised and highly targeted messaging to the audience of your choice, internal or external.
Why not differentiate your company from your competitors? Why not tell your customers (and your staff) just how seriously you take their safety, their well-being and their air security?
The endlessly configurable appearance of the Omni Elevate™ within its specific use-application setting, is the perfect and credible medium for such a communications campaign.
Omni Elevate™ units require professional installation.
All Omni Elevate™ units are supplied with a Door Decal that announces to your customers and your staff, that this confined environment is 'Protected by Air Revolution'.
12V-DC or 24V-DC or 26V-DC models available.
Incorporates germicidal UV-C light for enhanced pathogen destruction.
TiO₂ layer with UV-C activation provides an effective PCO reaction that amplifies germicidal action & VOC/CAC reduction by means of the production of Hydroxyl Radicals.
Negative Ionisation aggregates airborne pathogens & contaminants and facilitates removal of dust, cigarette smoke and pollen spores.
Low Power Consumption <40w.
Estimated Operating Hours between Servicing >10,000 hours.
Brushed Stainless Steel / Epoxy-Powder Coated Mild Steel Finish.
| | |
| --- | --- |
| Maximum Recommended Area Coverage | 5m2 / 54 ft2 |
| Maximum Cubic Volume Coverage (Assumes a Standard Ceiling Height of 2.4m / 7.87ft) | 12m2 / 424 ft2 |
| Active Air Hygiene Modalities Applied Trivalently: | |
| 1. Germicidal Ultraviolet Light A(UV-C @ 253.7 nm) | Yes |
| 2. Photocatalytic Oxidation (Activated by UV-C @ 253.7 nm) | Yes |
| 3. Negative Ion Generation (~3-million N-Ions / cm3) | Yes |
| Entrained Airflow | 0.5m3 / 18ft3 per minute |
| TiO₂ Layer Surface | 242 cm2 / 37.51 in2 |
| Radiated Electrical Energy | 32 µW/cm2@1m / 4.96 µW/in2@3.28ft |
| Lamp Power Rating | 18 Watts |
| Noise | < 30 dB |
| Weight | 1.8kg / 3.9lbs |
| Dimensions (HWD) | 420x115x65 mm / 16.53×4.53×2.56 in. |
Note:  All specifications are subject to change without prior notification.