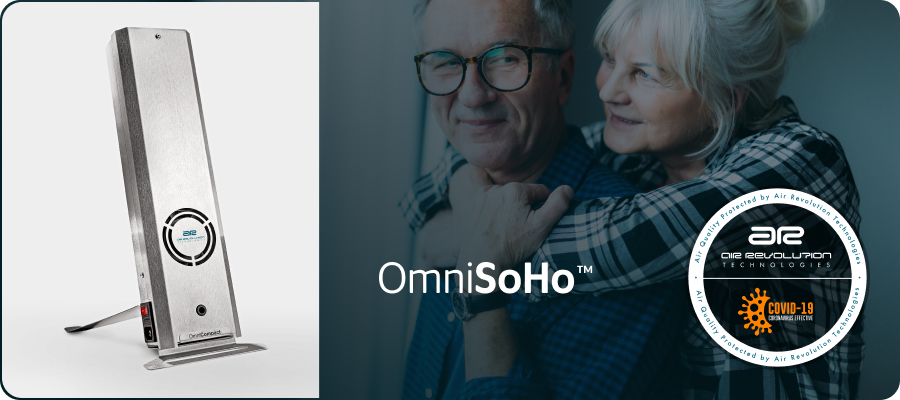 The Omni SoHo™ is a compact, quiet, convenient and easy-to-use air hygiene device from Air Revolution Technologies™ that is conveniently designed to simply 'plug-in-and-use', making it perfect for your home or small office.
The Omni SoHo™ offers an exceptional and assured improvement in both Air Hygiene and Indoor Air Quality quotients and is particularly effective within a 20m2 / 215 ft2 operational footprint (at a standard ceiling height).
It is the ideal unit for in situ applications where people are interacting in relatively close proximity to one another, ensuring a substantial reduction of airborne cross-infection, or additionally, if the general Indoor Air Quality (IAQ) requires to be improved and enhanced due to the presence of exogenous air contaminants and airborne particulate matter.
110 ~ 240V AC or 12V-DC or 24V-DC or 26V-DC models available.
Incorporates germicidal UV-C light for enhanced pathogen destruction.
TiO₂ layer with UV-C activation provides an effective PCO reaction that amplifies germicidal action and VOC/CAC reduction by means of the production of Hydroxyl Radicals.
Negative Ionisation aggregates airborne pathogens & contaminants and facilitates removal of dust, cigarette smoke and pollen spores.
Low Power Consumption <40w.
Estimated Operating Hours between Servicing >10,000 hours.
Brushed Stainless Steel Finish.
Maximum Recommended Area Coverage
20m2 / 215 ft2
Maximum Cubic Volume Coverage (Assumes a Standard Ceiling Height of 2.4m / 7.87ft)
48m2 / 1,696 ft2
Active Air Hygiene Modalities Applied Trivalently:
1. Germicidal Ultraviolet Light A(UV-C @ 253.7 nm)
Yes
2. Photocatalytic Oxidation (Activated by UV-C @ 253.7 nm)
Yes
3. Negative Ion Generation (~3-million N-Ions / cm3

)

Yes
Entrained Airflow
0.5m3 / 18ft3 per minute
TiO₂ Layer Surface
242 cm2 / 37.51 in2
Radiated Electrical Energy
32 µW/cm2@1m / 4.96 µW/in2@3.28ft
Lamp Power Rating
18 Watts
Noise
< 30 dB
Weight
1.8kg / 3.9lbs
Dimensions (HWD)
420x115x65 mm / 16.53×4.53×2.56 in.
Note:  All specifications are subject to change without prior notification.